Ballona Creek Bike Path
The Ballona Creek Bike Path parallels Ballona Creek while connecting the Pacific Ocean at Marina Del Rey with Culver City. The trail connects with a beach path that continues south to Redondo Beach while at the north, Dusquesne Avenue connects the bike path with the eastern portions of the Park to Playa Trail.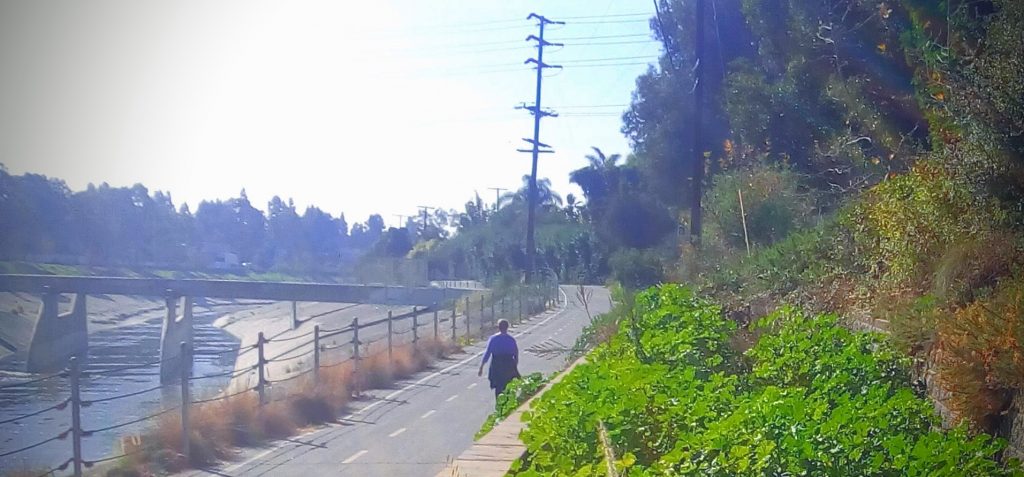 The Ballona Creek Bike Path starts at Syd Kronenthal Park in east Culver City and extends about 7 miles to the the beach at Marina Del Rey.  When Ballona Creek was channelized starting in the 1930s, the concrete berm was nothing more than a service road for maintenance vehicles. Eventually, it was striped for public use as a bikepath and use by joggers, walkers and skaters. Significant bike path improvements in recent years include native landscaping, artist-designed gates, benches, drinking fountains, murals and other projects by public agencies and local non-profit organizations. This continuing process is creating a pleasant recreational facility for riders, walkers, joggers and skaters, including families, and is also used by some to commute to work by bike.
Websites:
 http://ballonacreek.org/bike-path/
https://trails.lacounty.gov/Trail/91/ballona-creek-bike-path
Entrances:
Terminus at Syd Kronenthal Park  |   Duquesne Ave  |   Overland Ave  |   Ocean Drive  |   Sepulveda Blvd  |   Sawtelle Blvd  |   Slauson Ave  |   Inglewood Blvd  |  Centinela Ave  |   McConnell Ave  |   Lincoln Blvd  |   Fiji Way  |   Pacific Ave
Park Hours: 8 am to sunset daily
Handicap access information. Most parts of the bikepath are flat and accessible to those with disabilities or in hand-propelled or motorized wheelchairs. Some entrance gates are steep ramps which are not ADA compliant.  There are also ramps, some of them steep, where the bikepath crosses under major streets about every half-mile to mile. On steep ramps there is a possibility of cyclists riding fast up or down the ramps, so exercise caution.