Hetzler Road Pedestrian Path at BHSO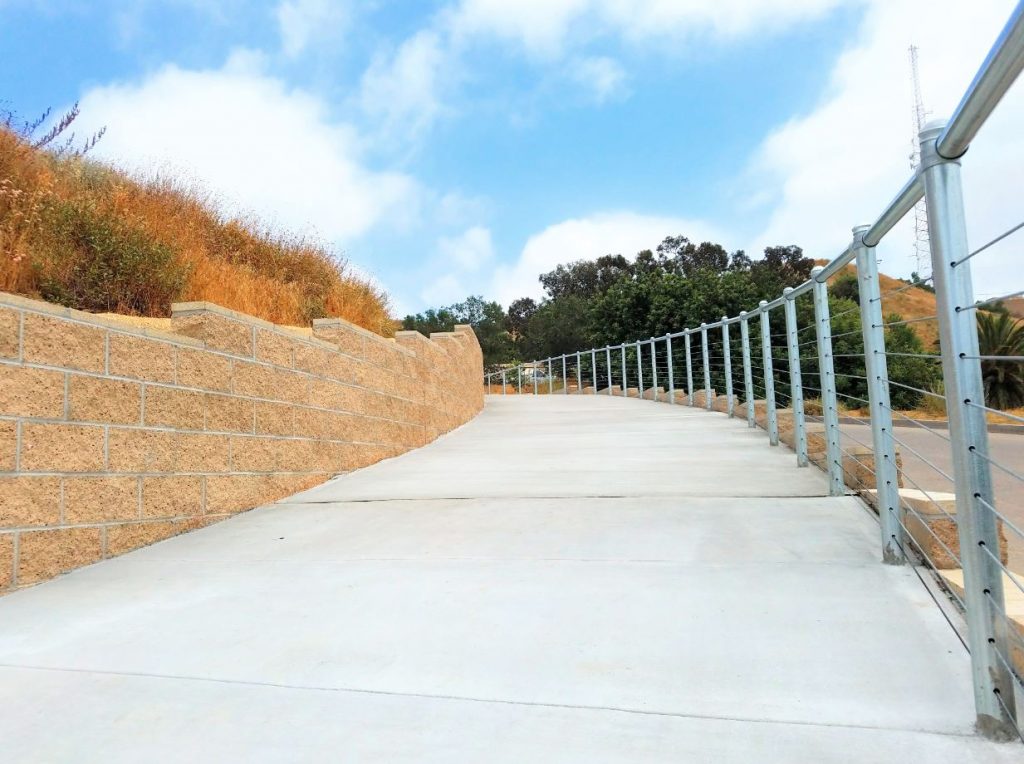 The proposed project constructed a pedestrian walking and jogging path approximately 10 feet wide and 1500 feet long. The path starts near Jefferson Boulevard and terminates beyond the Southern-most residence along Hetzler Road. The path terminus is near the point of access to Baldwin Hills Scenic Overlook and Culver City Park. The path will divert pedestrians away from the portion of the roadway that is used for access to residential properties located along Hetzler Road, thereby alleviating pedestrian/vehicle conflicts.  Construction of the colored concrete trial will include retaining walls to support the adjacent hillside, signage, fencing and appurtenant drainage improvements.
The project constructed:
Concrete pedestrian path (trail) approximately 10 feet wide and 1500 feet long. It will run parallel to Hetzler Road within the Baldwin Hills Scenic Overlook State Park.
Integrally colored Concrete Sidewalk
Split Stone Masonry Retaining Wall with Anti-Graffiti Coating
2 Concrete Access Stairways
2 Pedestrian Ramps
2 Wall Footings
Drainage improvements
Approximately 2946 Linear Feet Perforated Drain
6 Wall and Trench Drains
Concrete V-Gutter
16 Non Perforated Drains
Cable fencing (posts installed by City contractor, cable installed by State Parks)
8 New Street Signs
1 High Visibility Crosswalk
Shared Lane Markings (Sharrows)
Permanent and Temporary Prop 84 Signs (1 each)
2 Inverted "U" style bike racks for Bicycle Parking
Project Status: Complete
Completion Date: Summer 2017
Project Partners: City of Culver City, Mountains Recreation and Conservation Authority,  Baldwin Hills Regional Conservation Authority, Land and Water Conservation Fund, California State Park Foundation, California State Parks,  and Baldwin Hills Conservancy
Total Project Cost: $1,714,324
BHC Prop 84 Grant Amount: $891,000