La Cienega Pedestrian Bridge Project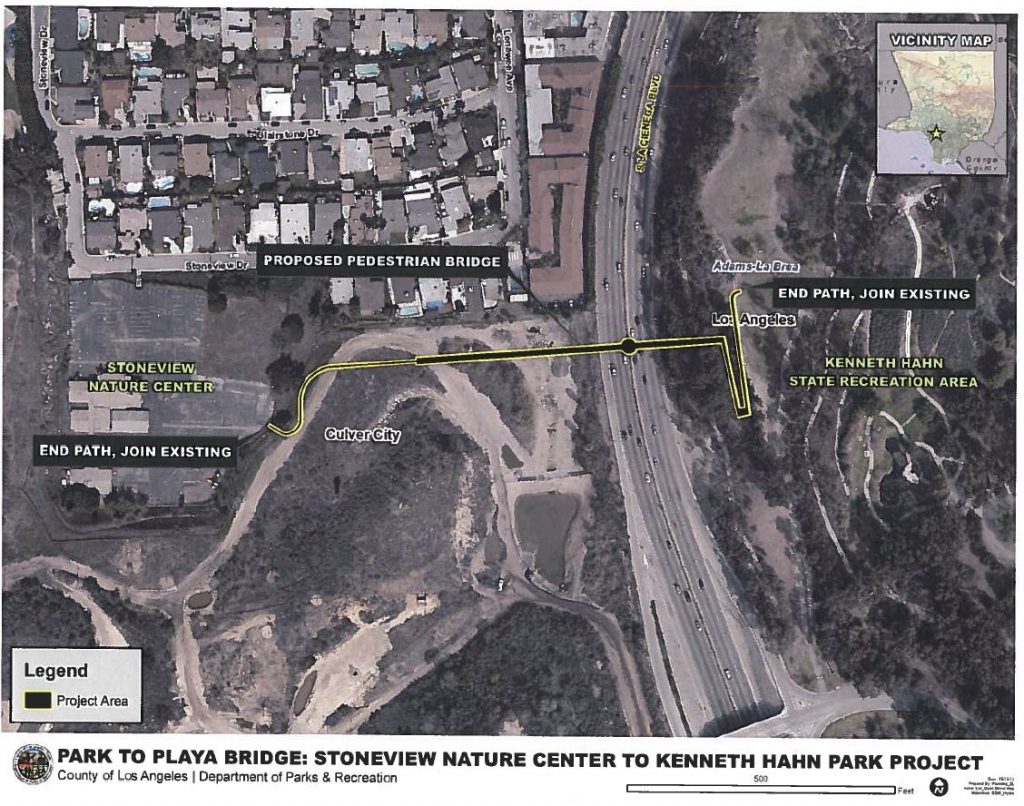 This project will create a 235-ft. linear pedestrian bridge that spans La Cienega Blvd connecting two major Parkland amenities: Kenneth Hahn State Recreation Area and the recently opened Stoneview Nature Center.  Plans for this integral piece of the 13-mile Park to Playa Trail include short transition trails on the east and west landings and natural landscaping throughout to encourage wildlife crossings.
The bridge is a part of a regional trail system that has been developed in segments over the last 6 years.  With the forthcoming completion of the western portion's final two segments in 2017-18, this grant would provide funds for safe passage across La Cienega's six lanes of traffic and maintain the continuity of the Park to Playa Trail.  Without the proposed bridge, the vision for the first regional trail in Southwest Los Angeles County could not be realized. When completed, the Park to Playa Trail will provide much needed pedestrian access to a variety of Parkland facilities along its path including Kenneth Hahn State Recreation Area, Norman Houston Park, Ruben Ingold Park, Stoneview Nature Center, Baldwin Hills Scenic Overlook, Culver City Park, Ballona Creek, Ballona Wetlands and the Pacific Coast.
The project is a highly collaborative effort crossing municipal jurisdictions including City of Los Angeles, Culver City, and unincorporated Los Angeles County.  The County has set up a Utilities District to address removal of the power lines and establish underground installation.  Additionally, the Baldwin Hills Regional Conservation Authority negotiated access to their surface rights with the oil field operator and adjacent property owners to achieve consensus on the project. Memorandums of Understanding were executed to mitigate concerns discovered during the environmental review process
Project Status: Active
Completion Date: 2019
Project Partners: County of Los Angeles Department of Parks and Recreation, Baldwin Hills Regional Conservation Authority, and Baldwin Hills Conservancy
Total Project Cost: $6,078,000
BHC Prop 40 Grant Amount: $3,000,000